Watch this scene on your mobile! Learn more
Give Me Attention!
Scene Info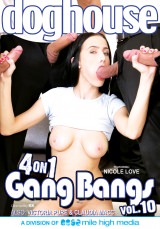 Give Me Attention!
Updated : 2017-08-02

|

Length : 00:38:59

|

Size : 389 MB

|

Images : 354

|

Views : 1670

|

Rating : 7 out of 10
Victoria Pure is frustrated, her boyfriend is not giving her the attention she needs. She interrupts a boy's night and demands that it's her turn to be noticed, but her boyfriend has a better idea. Which is how about all of the guys give her more than just attention. They give her 4 hard cocks and a wild gang bang. Paying extra attention to each one of her holes! Guaranteed she won't be complaining anymore!